Events at Fort Steilacoom
EXPERIENCE THE SMELLS, SIGHTS AND SOUNDS OF A WORKING FORT
Experience life in the past lane at Fort Steilacoom.  The museum offers a selection of annual events, including living history events and lecture series, so that guests may learn more about the history of the fort and its impact on the local community.
Do you enjoy volunteering for history?
We sometimes hear from people that they'd like to volunteer, whether because they love volunteering, or appreciate Puget Sound history – or something in between.
We ask all prospective volunteers to come by on the first Sunday of the month from 1 to 4, in order to meet some of the current volunteers. It's free to stop by and say hi!
If you appreciate the history but live outside the region, we certainly appreciate "remote" volunteers – email us to say hello.
Of course, we're open the first Sunday of every month for tours. Book here.
March 25, 2023: Our first Swap Meet since the pandemic. 
July 2, 2023: Living history to celebrate the Fourth. It's a new event for us, and we're excited about it.
July 4, 2023: We'll be at the Steilacoom Street Fair and Parade. Stop by the booth to say hello.
July 2023: Lakewood SummerFest, which takes place in the park across the street. Our buildings will be open part of the day for tours.
Sept. 18, 2023: We're open for Museum Day, sponsored by Smithsonian magazine. Free admission.
Oct. 15, 2023: Our annual meeting – election of officers, and always an interesting program afterward.
Dec. 9, 2023: Our most popular event, Christmas at the Fort. See below for details of past events. Members get first notice when sales begin, and then the subscribers to our free e-newsletter.
Past perfect; Previous events starting in 2022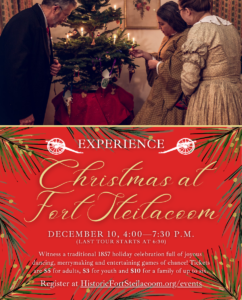 Christmas at Fort Steilacoom, Dec. 10, 2022:
Previous events:
Sept. 10: Join us for an online talk about the three wives of Fort Steilacoom's builder. More information here. 
Previous posts:
The fort will be open 1 to 4 p.m. for summer tours on May 29 and the first and third Sundays of each month in summer before returning to first Sunday in September. Tickets for tours
can be reserved through Eventbrite
.
We'll also be open for special events:
Museum Day, Sept. 17
Christmas at Fort Steilacoom, Dec. 10
We'll be at:
Fourth of July Street Fair booth in downtown Steilacoom, July 4
Lakewood Summerfest, July 23
More events are expected. If you're interested in organizing an event related to Pacific Northwest history, let us know.
Highlights of 2021
What follows is a record of some of our events in 2021.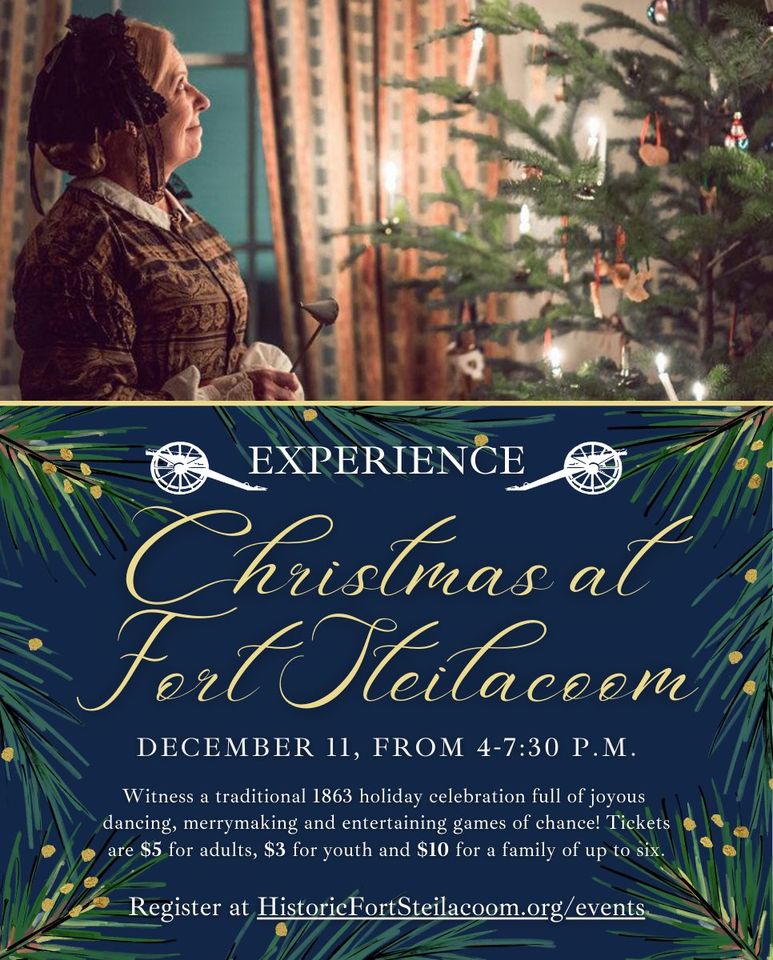 Dec. 5 update: Tickets for this event have sold out except for a few individual slots. No tickets will be available at the door. Please considering visiting us on the first Sunday of a month, where you can learn about Washington Territory's history and heritage. Get tickets here. 
Original post follows:
We're excited that Christmas at Fort Steilacoom is returning on Dec. 11, 2021. Only limited spaces are available. You can buy tickets here or by clicking on the image above.
If you find the event is sold out or the times you want are taken, you can always find times to visit us on the first Sunday of the month during the year.
Two online events are coming in 2021, for members only. Support our 160-year-old buildings and become a member today.
Join us for a member's speaker series at 2 p.m. Pacific Time on Sunday, Nov. 21, 2021 as Elizabeth Clark talks about western military laundresses in the 1850s.  
Join author Lorraine McConaghy at 2 p.m. on Sunday, Dec. 12, 2021, for an illustrated overview of the research for her book Free Boy and for a discussion of the people, events and ideas raised in the book.
PAST EVENTS OF 2021:
WOMEN'S HISTORY MONTH
The lives of 19th Century women in the Pacific Northwest will be celebrated in March as Historic Fort Steilacoom in Lakewood marks Women's History Month.
There is a charge for the virtual programs; the fort's privately managed four buildings are 165 years old and require considerable care.
All events start at 2pm on these consecutive Saturdays:
MARCH 13:  AIRING YOUR DIRTY LAUNDRY
Historical Interpreter and Museum Professional Peggy Barchi presented about "Airing Your Dirty Laundry." Learn about the daily grind that army laundresses endured and the skills it took to be one.
MARCH 20: IN HER SHOES: TRACING THE FOOTSTEPS OF PIERCE COUNTY WOMEN IN THE MID-1800S
Public Historian Claire Keller-Scholz presented "In Her Shoes: Tracing the Footsteps of Pierce County Women in the mid-1800s." Learn about the women and girls who lived on the Puget Sound around 1850. Get your ticket here. 
MARCH 27: WOMEN'S WORK IN WASHINGTON TERRITORY
Tacoma Historical Society's Curator, Elizabeth Korsmo, presented "Women's Work in Washington Territory." Learn about the day-to-day lives of women in the 1850's to 1860's. Get your ticket here. 
OTHER EVENTS
The 2021 schedule is still evolving; keep an eye on this space for more events.
April 25: MOUNTAIN ARTILLERY IN THE WEST
Join us for a member's speaker series 2 p.m. on Sunday, April 25, 2021 as Colonel (Retired) Paul R. Rosewitz, a military historian, discusses the artillery used by the regular army stationed at Fort Steilacoom and around the American West.  Members will receive the Zoom link to the presentation prior to the event. To become a member for a reasonable donation, visit https://historicfortsteilacoom.org/membership/.
May 16: FROM SCHUYLKILL ARSENAL TO FORT STEILACOOM, U.S. ARMY CLOTHING AND EQUIPAGE
join us for a member's speaker series at 2 p.m. on Sunday, May 16, 2021, as Ephriam D. Dickson III talks about Schuylkill Arsenal clothing and  equipping the soldiers of Fort Steilacoom in Washington Territory.
As the mission of the U.S. Army shifted from the war with Mexico in 1848 back to the newly expanded western frontier, its logistical system  struggled with new challenges. The Quartermaster Department, which  provided clothing and equipage for all enlisted soldiers through Schuylkill  Arsenal near Philadelphia, worked to update designs but it took years for  these new patterns to reach remote frontier garrisons such as Fort Steilacoom located in today's City of Lakewood, Washington.
To become a member for a reasonable donation, visit https://historicfortsteilacoom.org/membership/.
June 13: The Pig War of 1859
Join us 2 p.m. PT on Sunday, June 13, for an online talk by historian and author Mike Vouri about the Pig War of 1859 in Washington Territory.
Long before the San Juan Islands were a vacation destination, they were the focus of an international crisis ignited by an unlikely incident: The shooting of a pig in a potato patch. Mike Vouri is the author of five books about national, state and regional history, including The Pig War: Stand-off at Griffin Bay. You can sign up for this free talk on Eventbrite. 
July 18: The myth of the M1855 rifle musket: Weapons of the Coeur d'Alene War of 1858
Join us for a member's speaker series at 2 p.m. PST on Sunday, July 18, 2021, as Chris Fischer talks about the weapons of the 1858 Coeur d'Alene War in Washington Territory.
For years, historians believed the success of the Army during the Coeur d'Alene War of 1858 came from the use of the new model 1855 Springfield Rifle Musket. The leader of the campaign, Colonel George Wright, even credited the weaponry with military success.
Chris Fischer, public historian who has spent years researching the antebellum period of history, will address our members on this topic.
To learn more about this event and how to attend it, please see our news story about this program.