Research at Fort Steilacoom
LEARN MORE FROM THE SCHOLARS AT THE FORT…
Our Research Library
The Research Library is available by appointment only to HFSA members. To schedule an appointment with our Head Librarian please email info@historicfortsteilacoom.org. To become a member visit our Membership Page.
HFSA
The Historic Fort Steilacoom Association maintains and runs the Historic Fort Steilacoom museum. To gain access to our Research Library join the Association.
Resource Search
Looking for a specific resource? Try searching the HFSA library with the "LibraryThing" widget below.

A History of Fort Steilacoom
Learn more about the history of Fort Steilacoom. Download a PDF covering the origins of the Fort through the modern era.
Fort Steilacoom occupies an important position in the history of early America and the Pacific Northwest. The fort played a significant role in the settling of Washington Territory. Beginning with its establishment in 1849 and ending with its closure in 1868, Fort Steilacoom served as a beacon of American power and promise, promoting the migration of settlers to Washington & securing American interest in the region.
Located in the south Puget Sound, Fort Steilacoom was a part of an early network of settlements including Forts, Camps and Military Posts which were owned by either the United States or the Hudson's Bay Company.
The Fort Steilacoom Newsletter
Current editions of the newsletter are included with membership to HFSA.  Current editions are password protected and only HFSA members are given the password. As a courtesy, last years articles are available for download below.
The people of Fort Steilacoom
Let us introduce ourselves
Click a persons name to read a brief biography.
E. Porter Alexander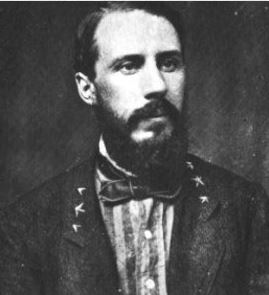 E.P. Alexander was born in 1835 in Wilkes County, Georgia. He graduated third in his class from the USMA at West Point in 1857. He served briefly as an instructor in
Engineering and Fencing before being deployed to Utah as part of the 1857 Mormon
Expedition.
Alexander returned from the expedition to resume his duties at the USMA and married soon thereafter. He had helped develop the U.S. Signal Corps in concert with Surgeon A. Myer when he received orders to report for duty at Ft. Steilacoom in 1860.
Lt. Alexander replaced Lt. Henry Martyn Robert in command of a detachment of 36
sappers at the post. He received news of the secession of Georgia while at Ft. Steilacoom and he decided at that time to resign his commission in the U.S. Army. Alexander fought in the American Civil War as General Longstreet's Chief of Artillery with his most memorable assignment being that of commanding the Reserve Artillery at Gettysburg.
After the war, Alexander served as a university mathematics instructor, railroad executive, and foreign diplomat. He maintained friendly ties with his fellow officers and a close friendship with President Grover Cleveland.
James M. Bachelder
James Bachelder served for a time as post sutler at Ft. Steilacoom. Born in Falmouth, Maine in 1817, Mr. Bachelder apprenticed as a seamen and later relocated to Port Townsend near the Strait of Juan de Fuca. He served as master of the George Emory, lumber schooner captained by Steilacoom founder, Lafayette Balch.
In 1850, Bachelder settled in Steilacoom with his wife Sarah and their four children. As with many frontier settlers, he supplemented his income with federal appointments. By 1853, Mr. Bachelder was the U.S. Commissioner and Justice of the Peace of the Third Judicial District of Washington Territory. He handled marriages, legal disputes, and land claims for the district.
In opposition to public opinion, Bachelder joined the officers of Ft. Steilacoom in opposing the execution of Leschi in 1858. He used his power as Justice of the Peace to delay the execution by arresting the Pierce County sheriff and his deputy on the day of the execution on January 22, 1858. This led to Bachelder's hanging in effigy by the citizens of Olympia. He was also removed from office.
Bachelder attempted to run for office that same year as well as maintain a positive cash flow in his sutler's store on the fort. According to the diary of August Kautz, the Bachelder family hosted guests frequently at their home on the fort's campus and that Bachelder was a "great drinker" as well as a "strong, hearty looking man."
In 1861 Mr. Bachelder helped organize Steilacoom's first Masonic lodge. He also served as the Pierce County auditor from 1862 to 1864. James Bachelder died young on April 8, 1865 at the age of 47 leaving behind a wife and four children.
Silas Casey & Abigail Perry Pearce Casey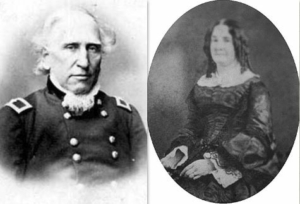 Silas Casey was born in 1807 in East Greenwich, Rhode Island. He graduated from the USMA in 1826, 40th in his class of 42, and was assigned to the 7th Infantry.
He saw his first service and combat in the Red River region but later left the 7th for an official appointment with the 2nd Infantry. Casey saw additional action in the Second Seminole War and he was a part of General Scott's invasion of Mexico City. Casey was wounded severely at Chapultepec in that campaign. After the Mexican War, Casey served with the 4th Infantry on the Pacific Coast and later formed the command nucleus of the 9th Infantry raised in 1855 under Colonel George Wright.
Casey arrived at Ft. Steilacoom in the winter of 1855 as commander of the District of Puget Sound and as a Lt. Colonel of the 9th Infantry. Casey returned East during the Civil War, rising to the rank of division commander in 1862. He led his division competently, but struggled to overcome structural issues inherent to the hastily assembled & intrigue infested Army of the Potomac. After the Battle of Fair Oaks, Casey was relieved of his command and reassigned to training soldiers and officers for combat.
In 1862, General Casey published his Infantry Tactics, a volume that reflected his beliefs on the most efficient means of training and deploying infantry soldiers. Casey's Tactics were learned and employed by thousands of Federal troops during the Civil War. Casey retired in 1868 a brevet Brigadier-General in the Regular Army.
Thomas Lincoln Casey & Emma Weir Casey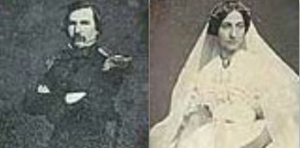 Thomas Lincoln Casey was born in 1831 in New York and was the son of Lt. Col. Silas Casey. He graduated first in his class at the USMA at West Point in 1852 and became part of the Army's elite Topographical Engineer Corps. He taught at the USMA between the years 1853–59.
For a brief time, First Lieutenant Casey commanded two detachments of sappers, or Engineers, at Ft. Steilacoom in 1860-61. While at the fort, 1860 Census records indicate that his family, consisting of his wife, Emma Weir, and two sons lived on post, in close proximity to his parents.
During the Civil War, Casey designed and built coastal fortifications in Maine. After the war, Casey was prolific in his building of public buildings and monuments in Washington City, particularly that of the Old Executive Office Building, Library of Congress, and completion of the unfinished Washington Monument.
Edward J. Conner
2nd Lt. Conner was posted at Ft. Steilacoom beginning in August 31, 1858, as officer in the 4th Infantry. A native of New Hampshire and a veteran of brief service in Texas with the 5th Infantry Regiment, Conner took an immediate liking to Lt. Col. Casey's second daughter, Bessie.
According to the diary entries of August Kautz, Conner enjoyed several excursions in the company of Bessie Casey while stationed at the post. In November 1860, Lt. Conner was transferred to Ft. Chehalis; this seems to have ended his pursuit of Ms. Casey.
On the eve of the American Civil War, Conner secured promotion to 1st Lt. in May 1861. He later saw combat service in the Civil War as a captain in the 17th Infantry Regiment.
Thomas Cooper English
Captain Thomas English spent a considerable portion of his military career at Ft. Steilacoom. Born in Pennsylvania on Dec. 22, 1827, English entered the USMA in 1845 and graduated in July 1849.  Initially posted to the 5th Infantry in Texas as a Bvt. 2nd Lieutenant, he garnered an official 2nd lieutenancy a year later on July 31, 1850. His promotion to the rank of 1st Lieutenant coincided with the formation of the newly-reconstituted 9th Infantry Regiment in March 1855.
With this promotion came English's assignment as the Ninth's regimental adjutant, a position that he held until May 1856. English undoubtedly helped manage the regiment's departure from Fortress Monroe in Virgina, to its crossing of the Isthmus of Panama, and its deployment to posts throughout the Pacific Coast.
Following his work as adjutant, Lt. English served in Company H/9th Infantry under Captain Presley N. Guthrie at Ft. Steilacoom. After Guthrie's death in 1857, English secured promotion to Captain of the company that December. From 1857 to 1861, English commanded Co. H/9th Infantry at Ft. Steilacoom. According to the 1860 Census, Capt. English was married to wife Cami, and he was the father of two young children, William (3 yrs.) and Harriet (2 mos.).
His company was ordered to replace Capt. Geo. Pickett's Co. D/9th on San Juan Island in July 1861. English's Co. H would remain on the island until November 1861. With the American Civil War in full swing, Capt. English secured a volunteer commission as a Lt. Colonel in the 1st Washington Territory Infantry. As Regular Army soldiers left Ft. Steilacoom for deployment elsewhere, Lt. Col. English remained on post in command of Cos. G and K/1st Wash. Infantry in 1862. By June 1863, his command was reduced on post to that of only Co. K/1st Washington Territory Infantry. Lt. Col. English requested additional troops of his department commander, but his request was refused in August 1863. In October 1863, Brig. General Alvord ordered English to take command of Ft. Boise, but English's departure was delayed by an injury that he had suffered one month earlier.
Within two weeks, English received new orders ordering his presence in Portland, Oregon as Acting Assistant Provost-Marshal-General for the State of Oregon and Washington Territory. He arrived by steamer in late December 1863. On February 23, 1864, English would take over command of the entire 1st Washington Territory Infantry after the mustering-out of Col. Steinberger.
This promotion required English's presence at Ft. Walla Walla, a post consisting of Cos. A and B/1st Washington Territorial Infantry. Not long after arriving, English was ordered to send one of his companies on an expedition against the Snake Indians. Records reveal his frustration with the presence of obsolete or broken tack as well as issues with volunteer subordinates. In July 1864, Col. Steinberger's return to command allowed English to resume his recruiting duties in Portland, Oregon later that September. The end of the Civil War in 1865 witnessed English's mustering out of volunteer service. Earlier in the war, in 1863, Captain English had been promoted to the rank of major in the 5th Infantry. By leaving the volunteer service, now Major English reported for duty in his new regiment.
On Oct. 11, 1867, Major English sat on the court martial of Geo. A. Custer, a position that involved English in Custer's subsequent suspension of rank, pay, and duty for one year. By February 1869, Major English secured a promotion to Lt. Colonel in the 16th Infantry Regiment. He died in Philadelphia, Pennsylvania on June 10, 1876.
Delancey Floyd-Jones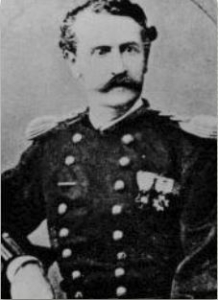 First Lieutenant Delancey Floyd-Jones was in command of Company C, 4th Infantry while stationed at Ft. Steilacoom between the years 1853–54. Lt. Floyd-Jones graduated from the USMA in 1846—45th in his class—and he saw subsequent service in the U.S.- Mexican War with the 4th Infantry Regiment.
A founding member of the Aztec Club, Lt. Floyd-Jones remained with the 4th Regiment after the war. He served at several posts on the Pacific Coast until the outbreak of the Civil War.
In 1861, Capt. Floyd-Jones was promoted to the rank of Major with the 11th Infantry; he saw significant combat action with the 11th in the Eastern Theater. Commended for his command at the Wheatfield in Gettysburg, Major Floyd-Jones took a Lt. Colonelcy with the 19th Infantry in August 1863. In 1865, Lt. Col. Jones assumed command of the 19th Infantry.
After the war, Floyd-Jones commanded several outposts, forts, and the 6th and 3rd Infantry Regiments. He retired from the Army in 1879.
Presley N. Guthrie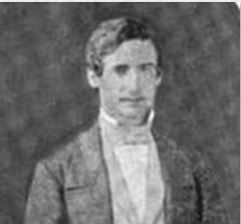 Captain Guthrie arrived at Fort Steilacoom in the first week of February 1856 with his command, Company H/9th Infantry. With him were 1st Lt. Davis and 2nd Lts. Fleming and David Bell McKibbon.
He was born in 1819 in Pittsburg, Pennsylvania. Prior to the Mexican War, Guthrie rose to command of the Dusquesne Greys, but later earned a captain's commission in the Regular Army in the 11th Infantry Regiment. He landed at Vera Cruz with the 11th Infantry and saw heavy action at Contreras, Churubusco, and Molino del Rey. Guthrie was wounded at Molino del Rey, falling twice from small arms fire. While recovering from his wounds, Guthrie received a Brevet Major's distinction for his valor in combat.
The 11th Infantry disbanded after the Mexican War. At this point, Presley Guthrie returned to Pennsylvania and was discharged from the Regular Army. In the early 1850s, he organized and took command of a volunteer organization (militia) company that called itself the "Independent Guthrie Grays."
Upon the raising of the newly organized 9th Infantry Regiment in early 1855, Guthrie secured a commission as captain in the new regiment. He helped train the new regiment and shortly after arriving in the District of Puget Sound in February 1856, he took the field with his troops. According to testimony provided by surgeon George Suckely, Capt. Guthrie fell ill during the rainy campaign, exhibiting a severe cold and fever. Guthrie soon suffered from some form of bodily paralysis that most likely resulted from his advanced stage of tuberculosis, a disease that Surgeon Michael Barry testified as one Guthrie first contracted during the Mexican War. Due to poor health, Captain Guthrie applied for a furlough. He died on December 29, 1857 in Newport, Kentucky. His funeral was arranged by his old militia unit, the "Guthrie Grays" and a company of troops from the nearby Newport Barracks was turned out at the ceremony.
Presley Guthrie left behind a wife, Mary, and five children. Mary applied for and was granted her late husband's pension in 1861. One of her sons, Edward, died in the Civil War at age 18.
Edwin J. Harvie
1st Lt. Harvie served at the fort in Co. H/9th Infantry under Capt. Thomas English. A VMI graduate, Harvie had seen previous service with Co. E/9th Infantry before arriving at Steilacoom.
On March 15, 1861, Lt. Harvie resigned his commission to join the rapidly mobilizing Confederate forces. By 1862, now Lt. Col. Harvie had gained considerable wartime experience on the staff of Gen. Joseph E. Johnston. As Assistant Inspector General, Harvie would later serve on the personal staff of Gen. Robert E. Lee.
Later posted to the Western Theater of operations, Harvie would reunite with former commander Johnston. It is his reports on the conditions of troops in the field that offer today's historians glimpses into the fighting readiness of Confederate combat troops throughout the war.
Bennett H. Hill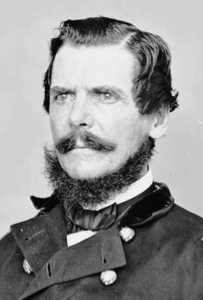 Captain Hill is the founding officer of Fort Steilacoom. Ordered to construct a post on the Puget Sound in 1848, Capt. Hill negotiated a lease with the Hudson's Bay Company that would provide a site for Cos. L and M/1st Artillery to live on and operate. Hill, 32 years old, arrived at Ft. Steilacoom an experienced officer of 10 years in the service. Born in Washington, D.C. and an 1837 USMA graduate, Hill served in various capacities with the 1st Artillery. He was promoted to 1st Lieutenant in 1838 and to captain of Co. M ten years later after seeing service in the Mexican War. By 1853, Hill's command was replaced by two companies of the 4th Infantry.
In December 1854, Captain Hill received orders to lead aggressive patrols in the Florida Everglades in an effort to confine or kill Koontee insurgents. One year later (1855), Captain Hill found himself in the middle of the Third Seminole War.
As the Civil War opened in 1861, Capt. Hill, now in Texas, defied the demands of Texas militiamen to surrender his post and men near today's Brownsville. He subsequently evacuated his command and was promoted to the rank of major in the 2nd Artillery in August 1861. Two months later, Major Hill took command of Fort Taylor, a masonry coastal artillery fort near today's Key West, Florida.
After a brief sojourn at Ft. Taylor, Hill gained promotion to Lt. Col. In the 5th Artillery. He spent the remainder of the war in Michigan as that state's Assistant Provost Marshal General. His responsibilities included the enrollment and drafting of volunteer troops and the investigation of seditious activities. Hill later achieved the rank of Brigadier General after the war. He died in 1886.
Lewis Cass Hunt
Captain Lewis Cass Hunt commanded Company C 4th Infantry at Ft. Steilacoom on paper early as 1856, but not in person until 1858. He was born in 1824 at Ft. Howard near today's Green Bay, Wisconsin.
Hunt graduated 33rd in a class of 38 from the USMA in 1847. A veteran of the Mexican War and stations on the Pacific Coast, Hunt at one point shared a room with Capt. H. Ulysses Grant at Ft. Humboldt. Captain Hunt commanded Company C through its service on San Juan Island from August 1859–April 1860, its occupation duty at Fort Townsend, and its transfer down the West Coast to its reassignment East at the beginning of the Civil War.
In 1859, Hunt began courting his post commander's eldest daughter, Abby Casey. This put Hunt in conflict with one of his company officers, Lt. Arthur Schaaf. Schaaf, too, was interested in Abby, but was inclined to over-indulging in alcohol. Abby accepted Lewis's proposal for marriage and the two were married on November 28, 1860 at the fort. Lt. Schaaf did not attend the wedding.
In 1862, Hunt was wounded leading the 92nd NY Vol. Infantry at Fair Oaks, VA, an engagement in which Hunt served in the third brigade of a division commanded by his father-in-law and a Corps commanded by another Ft. Steilacoom alumnus, E.D. Keyes. Recovering from his wounds, Hunt convalesced with his growing family at duty stations such as New Bern, NC and New York Harbor. For the latter half of the war, Brig. Gen. Hunt was the commander of the 1st Brigade/4th Div/18th Army Corps. He returned to the 4th Infantry after the war as a major and later assumed the colonelcy of the 14th Infantry in 1881.
Hunt suffered for most of his life from chronic dysentery and intestinal problems, a lifelong illness that was exacerbated by his service in Mexico. He died from this illness shortly after arriving for duty at Fort Union, New Mexico on September 6, 1886. Col./Bvt. Brig.
Gen'l Hunt was buried in the National Cemetery at Ft. Leavenworth, Kansas.
Abby Pearce Casey Hunt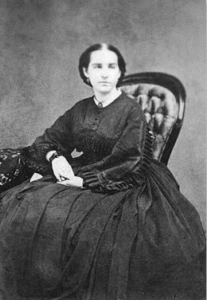 Abby P. Casey was the oldest daughter of Lt. Col. Silas Casey. Living with her family at Ft. Steilacoom, beginning in 1856, Abby was a familiar fixture on the social scene at the post.
Admired and pursued by several bachelor officers, Abby won the interest and affection of Captain Lewis Cass Hunt. At age 22, Abby married Captain Hunt in November 1860, taking up residence on the post. At the wedding, Lt. August Kautz wrote that, "Capt. Hunt was evidently very nervous and quite feeble in his responses. Miss Casey was much more self-proposed."
One year later, she joined her husband and his company as they were transferred to the East to fight in the Civil War. Abby bore the couple's first child, Bessie Perry Hunt, on November 28, 1861 while awaiting transport via steamer in San Diego.
During the war, Abby would follow her husband through the war, including an extended stay in New Bern, NC while her husband served as occupational commander. It was at New Bern that Abby's second child, Lewis Casey Hunt, was born on April 17, 1863.
On June 21, 1865, the couple had a third child, Robert Herrick Hunt while stationed in New York at 48 Bleeker Street, NYC. After the war in Michigan in 1867, the couple had a fourth child, Thomas Goodale Hunt; unfortunately, this child did not survive. By 1869, the Hunt family celebrated the birth of a fifth child, Henry Jackson Hunt on February 11, 1869 in New Orleans, Louisiana.
With the Hunt family growing ever larger, the couple decided to establish a permanent home in Ann Arbor, Michigan, with Lewis traveling alone to his varied duty stations throughout the west. Abby saw to the education and raising of the family, keeping a diary of her experiences. Her diary entries in 1884 reflected her concern for her husband's declining health, nicknaming him the "Genr'l." in her entries.
She also noted that same year the successes of her children in school as three attended college while Henry attended High School. In 1884, Abby also reported her own suffering from great pain and "a kind of bilious attack." This may have foreshadowed her own illness, that of cancer.
Her last diary entry was on December 31, 1884; Abby Hunt would die from cancer on February 25, 1886 in Ann Arbor, Michigan. She was buried at the Casey's ancestral home in Rhode Island. Her husband, Lewis, would die six months later.
Abby's youngest child, Henry Jackson Hunt would later command the 6th Infantry Regiment and see action in the Spanish-American War, the Philippines, and WWI.
Henry Moses Judah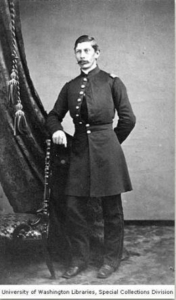 Captain Judah served briefly at Ft. Steilacoom in 1860 as commander of Company E/4th Infantry. He graduated from the USMA in 1843, 35th out of 39, and he was assigned initially to the 8th Infantry Regiment.
During the Mexican War, Judah fought with the 4th Infantry and received recognition for his bravery at Molino del Ray and Chapultepec. He served at various posts on the Pacific Coast during the 1850s. At one point, he assumed command of Ft. Simcoe near today's Yakima during Major Garnett's 1858 expedition.
At the outbreak of Civil War, Judah accepted a colonelcy with the 4th California Volunteer Infantry. In 1862, Col. Judah was promoted to Brigadier General. A commander in several Western Theater fights, Brig. General Judah commanded the 2nd Division of the 23rd Corps during the Atlanta Campaign.
Issues stemming from his use of alcohol (dating back to the 1850s) and criticism of his command decisions contributed to his assignment to staff duties during the last year of the war. After the Civil War, Judah and his family were assigned to Plattsburg, NY where he died in 1866 at age 45.
Maria Judah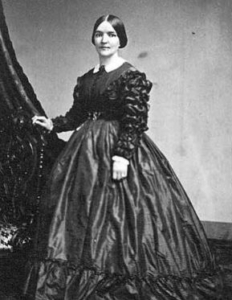 The wife of Captain Henry Judah, Maria raised three children while the family was stationed at Fort Steilacoom. According to the 1860 Census, the Judah children consisted of Henry, age 10, Theodore, age 1, and Mary, a one-month-old infant in August. Theodore may have been named after Henry's brother, famed leader of the Central Pacific Railroad and part of the business competition that led to America's first transcontinental line!
August Valentine Kautz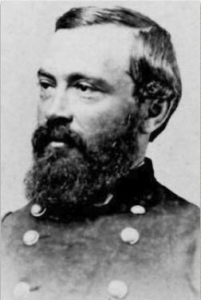 Lt. Kautz served off and on at Fort Steilacoom as a platoon leader and quartermaster from 1853–61. He was born in Germany in 1828 but came to America as an infant. He served in the Mexican War as an Ohio volunteer private, but earned appointment to the USMA after the war. He graduated from the USMA in 1852 and was posted to the 4th Infantry Regiment where he experienced several combat engagements with Indians in Oregon and Washington. Kautz was wounded during two firefights in the course of his Indian war campaigning, once in action along the White River near today's Bonney Lake.
During his time at the fort, Lt. Kautz married, not legally, the daughter of Quiemuth, a leader in the local Nisqually tribe. Kitty and August Kautz had two children, Augustus and Nugent. Kitty raised the couple's sons at nearby Simakins Camp or on the Nisqually Reservation.
At times during his service, Kautz took his sons on excursions near today's Semiahmoo and Chehalis. Kautz was also instrumental in designing and supervising the construction of new buildings at Ft. Steilacoom in 1857–58, four of which remain today. During this time, he also took part in the first attempt by whites to ascend Mt. Rainier in 1857. He returned from the trip suffering from snow-blindness and frostbite.
He took leave in Europe in 1859, but returned to Ft. Steilacoom in October 1860 to assist with the Casey-Hunt wedding. In May 1861, Kautz left Ft. Chehalis for duty in the Civil War but not before stopping at Ft. Steilacoom and arranging care for his family. He bade his Indian family goodbye on June 8, 1861, leaving them in the care of Edward Huggins of Ft. Nisqually.
Back East, Kautz assumed a cavalry troop command in the 6th U.S. Cavalry. During the war, Kautz rose quickly as a cavalry commander to the position of Brigadier General of Volunteers, seeing service in Kentucky and later, the Petersburg Campaign. After the war, Lt. Col. Kautz took command of the 34th Infantry , the 15th Infantry, and the 8th Infantry Regiments. In addition, Kautz authored several informative books for military personnel and today's historians, The Company Clerk in 1863, Customs of Service for Non-Commissioned Officers and Soldiers in 1864, and Customs of Service for Officers in 1866.
Both Kitty and August Kautz remarried after their separation in 1861. Kautz's son Nugent taught at the Carlisle Indian College while his son Augustus remained as a farmer and influential tribal member on Puyallup Indian land.
General Kautz retired from the Army in 1892 and moved to Seattle where he died in 1895.
Erasmus Darwin Keyes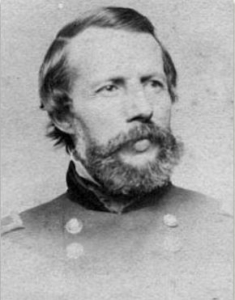 Captain E.D. Keyes served at Ft. Steilacoom as commander of Company M, 3rd Artillery beginning in November 1855–Spring 1856 during the Puget Sound Indian War. Keyes graduated 10th out of 45 students from the USMA in 1832.
He saw service in Charleston, SC during the Nullification Crisis and for several years served as military secretary to General Winfield Scott. During the 1840s, Keyes taught courses in Engineering and Artillery at the USMA. During the 1850s, he served at several Pacific posts, including Alcatraz Island. In 1856 Keyes was responsible for the posting of sentinels that ambushed a war party led by Kanaskat.
By 1858, Keyes led a battalion of artillery troops fighting as infantry in the Wright Expedition against the confederated Spokane and Palouse insurgents. At the beginning of the Civil War, Col. Keyes commanded the 11th U.S. Infantry and later commanded division and corps-sized organizations during McClellan's Peninsula Campaign of 1862. By 1863, Keyes ran afoul of his department commander and was removed from command. He served on several administrative boards before retiring from the service in 1864.
Keyes moved back to the West Coast, settling in San Francisco and converting to Catholicism. He achieved great wealth and status as a financier, banker, and mine owner. Keyes wrote about his experiences in Fifty Years' Observations of Men & Events in 1884. He died in France in 1895.
Maurice Maloney
Captain Maurice Maloney, like Lt. Kautz, saw combat service as an enlisted man prior to serving as a commissioned officer. Born in Ireland around 1812, Maloney entered the Army in 1836 seeing service in Florida and the Cherokee Nation.
By the time of the Mexican War in 1846, Maloney had risen to the rank of Sgt. Major. He was promoted from the ranks to 2nd Lt. on Nov. 27, 1846 and he served as the acting adjutant for the regiment for three days in September 1847.
In October 1847, Lt. Maloney was promoted to full-time adjutant for the 4th Infantry Regiment. He earned additional brevet appointments for his heroism in assaults at Molino del Rey and Chapultepec. Wounded in battle, Maloney left the war as a 1st Lt./Bvt. Captain (being promoted on May 6, 1848). Maloney joined the 4th Infantry in its deployment to the Pacific Coast in 1853. On Nov. 22, 1854, Maloney was promoted to Captain and assigned to duty at Ft. Steilacoom. He coordinated the early reaction of Regular troops to the Indian insurgency in the summer and autumn of 1855.
With the arrival of Capt. Keyes and Lt. Col. Casey on the scene later that year, Maloney went back to company command. Maloney remained in command of Co. A/4th Infantry for the remainder of his duty in the Pacific Northwest, seeing service not only at Ft. Steilacoom, but also Camp Montgomery and Ft. Chehalis.
Capt. Maloney joined the 4th in its deployment to the East during the Civil War, but he accepted a promotion to Major in the 1st Inf'y on Sept. 16, 1862. His Regulars trained as both heavy artillery and infantry and were commended for their fighting spirit at places such as Corinth and the siege of Vicksburg. For a time, Major Maloney served as the Colonel of the 13th Wisconsin Volunteer Infantry but returned to the Regular Army by the end of the war.
On June 16, 1867, Maloney was promoted to Lt. Col. of the 16th Infantry, a position he held until being replaced by the promotion of Thomas C. English to Lt. Col. two years later. Maloney was unassigned for just over a year before he retired from the service on Dec. 15, 1870. Lt. Col. Maloney died just two years later on Jan. 8, 1872 in Green Bay, Wisconsin.
Joseph Mansfield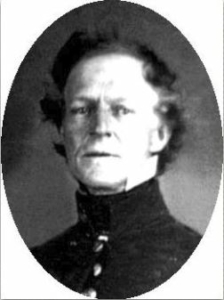 Colonel Mansfield visited Fort Steilacoom twice as inspector general, the first time in 1854 and again in 1858. Mansfield graduated second in his class at the USMA in 1822 and he served in the Army's Topographical Engineer Corps. By the time of the Mexican War in 1846, Captain Mansfield served as General Taylor's chief engineer. Throughout the 1850s, Colonel Mansfield served in several departments across the continent as a staff officer and inspector general.
Promoted to major general of volunteer troops during the Civil War, General Mansfield would be mortally wounded at Antietam leading his XII Corps across the East Woods. He died the next day, on Sept. 18, 1862.
David Bell McKibbin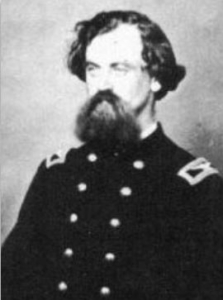 Although never completing his studies at the USMA (he left in 1848), McKibbin brought plenty of initiative to his appointment as an officer with the new 9th Infantry Regiment in 1855.
During the 1850s, Lt. McKibbin and his wife, Marian (born 1833), witnessed the growth of Fort Steilacoom serving as a platoon leader in Company H, 9th Infantry. His aggressive leadership in a sharp firefight along the White River in 1856 was recognized by then Captain E.D. Keyes in Keyes' later memoirs.
In 1861, McKibbin secured a transfer to the newly-raised 14th U.S. Infantry, eventually earning promotion to Captain and command of the 2nd Battalion of the 14th. He saw significant action during the Peninsula Campaign and at the Battle of Antietam. By 1863, McKibbin had left the 14th to take a command as colonel of the 158th Pennsylvania Infantry Regiment. When that regiment's term of service expired in 1863, McKibbin returned to the Regulars of the 14th Infantry and fought in the Wilderness and Petersburg Campaigns. At the end of the war, McKibbin secured a short-lived colonelcy in the 214th Pennsylvania Infantry Regiment. In 1866 Capt. McKibbin transferred out of the 14th to the 32nd Infantry and served with this regiment for only a year.
He ended his army career as a major in both the 10th Infantry (1867) and 10th Cavalry (1870), retiring on May 31, 1875. Major David Bell McKibbin died November 8, 1890 in Washington, D.C.
Thomas J. Montgomery
A Maine native and graduate of the USMA in 1845, Capt. Montgomery saw action in the Mexican War with both the 8th and later, 4th Infantry regiments. Promoted to 1st Lieutenant on December 26, 1847, Montgomery continued service with the 4th Regiment of Infantry after the war when it was posted to the West Coast. He served at Benecia Barracks and Fort Dalles, and finally Fort Steilacoom in command of Captain of Co. A/4th Infantry (promoted March 27, 1854, filling the position vacated by the death of Charles Larnard).
Unfortunately, his service at Ft. Steilacoom was short-lived. According to the Pioneer and Democrat newspaper dated Saturday, December 2, 1854: "We regret to hear of the death of Capt. Thomas J. Montgomery, of the 4th Infantry, who expired at Fort Steilacoom on the 22d inst.[November], after a very short illness.
Capt. Montgomery graduated at West Point in 1845, and served throughout the Mexican War, being in the battles under General Taylor up to Monterey, and in those under Gen. Scott to the City of Mexico. On all these occasions he was conspicuous for gallantry. As a gentleman of high intelligence and most amiable character, he was equally esteemed by all who knew him.
His funeral took place at Fort Steilacoom on the 24th inst. And was attended with Military and Masonic honors." And, "DIED, At Fort Steilacoom, W.T., Nov. 22, at 11-1/2 o'clock P.M., Capt. Thos. J. Montgomery, U.S. Army, aged 31 years, 9 months and 17 days." Capt. Montgomery's position was filled by the promotion of Captain Maurice Maloney.
George W. Patten
A native of Rhode Island, George W. Patten entered Federal service on July 1, 1830. He saw brief service at Ft. Steilacoom after receiving promotion to Major in the 9th Infantry on April 30, 1861. Just over a year later, he was promoted to Lt. Col. of the 2nd Infantry and saw action in the Civil War with Sykes's Regular Division. He retired from the service on February 17, 1864 after a 34-year career with the Regular Army.
George Pickett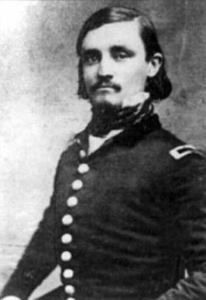 Captain George Pickett commanded Company D of the 9th Infantry Regiment, a unit that arrived at Fort Steilacoom with Co. H/9th Infantry and Lt. Col. Casey in the midst of the Indian insurgency of January 1856. He was a veteran of the Mexican War after graduating from the USMA in 1846 at the bottom of his class.
Captain Pickett had served with the 8th Infantry in Texas during the Mexican War. He joined the 9th Infantry in 1855. By August 1856, Pickett's Company D had been dispatched to Bellingham Bay to construct and occupy a post that they named Fort Bellingham.
Nearly three years later, Pickett's Co. D/9th Infantry was the vanguard of an American force on San Juan Island, an affair today known as the Pig War. Pickett's handling of the situation put him at odds with General Winfield Scott and the British authorities. Pickett's company was among those companies ordered off the island as part of Scott's negotiations in November 1859.
Captain Pickett would return to San Juan Island in March 1861, but his company would leave the island that summer stopping briefly again at Fort Steilacoom where Pickett would take leave of his company. Capt. Pickett resigned his commission in California, secretly making his way to the newly-formed Confederacy where he would rise to the rank of division commander in the Army of Northern Virginia under General James Longstreet.
After the Civil War, General Pickett fled to Canada, but returned to the U.S. in the 1870s with the approval of then-President Grant.
Henry Prince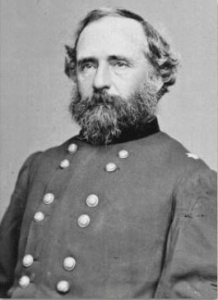 Born in 1811 in Maine, Henry Prince graduated from the USMA in 1835 and served with the 4th Infantry for most of his military career. He was wounded twice, once during the Seminole Wars in Florida and again, severely, in Mexico at Molino del Ray.
Captain Prince commanded troops of Company C, 4th Infantry at Ft. Steilacoom; he also served on the Coast Survey expeditions of Puget Sound from 1850-55. He served as an Army Paymaster for the remainder of the 1850s, participating in the Utah/Mormon Expedition, and as a division commander during the Civil War. He was captured at the Battle of Cedar Mountain but resumed his command duties upon parole a few months later.
He left volunteer service in 1866 and continued as a paymaster after the war, returning
to the Pacific Coast in 1875. General Prince retired in 1879 as Chief Paymaster.
John and Elizabeth Rigney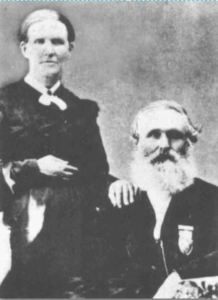 John Rigney immigrated to New York from Ireland looking for a better life. Because jobs were scarce, he enlisted in the U. S. Army, joining Company "M," 1st Regiment of the U.S. Artillery, and was sent on assignment to Vera Cruz and the Mexican War. Returning to New York, he married Elizabeth Lowry on September 30, 1848. Elizabeth was soon hired as one of the laundresses of Company "M."
That summer Companies "M" and "L" were ordered to Puget Sound. The two companies, under the command of Captain Bennett Hill, sailed north on the sloop Harpooner, arriving at the mouth of the Chambers Creek in August of 1849. The men were temporarily quartered in buildings at the Thomas Heath farm, a Hudson's Bay property.
To accommodate the new troops, John worked under the direction of Second Lieutenant Grier Tallmadge to construct two officers' quarters, a hospital, a company storehouse, a guardhouse, a commissary store, and a bake house.
While John worked at the daily tasks of an enlisted man, Elizabeth was busy washing,
ironing, and mending for the men of Company "M." Doing the laundry for the military man was especially difficult because of the processes used for the heavily-soiled work clothes, the wool uniforms, and other special care fabrics.
An important Rigney family event that changed Elizabeth's daily life at the fort was the birth of twins John, Jr. and Ann on January 25, 1850. John Sr. continued fort duties until his enlistment was up. In 1852, the family moved to a log cabin on the 641.34 acre donation land claim near present day 64th and Orchard streets in Tacoma. The family increased as George was born in 1855; James 1856; Eliza Jane, 1861; the twins Lucia Rose and Marcella, 1862; and Edward, 1867 By 1873, John took up a 160 acre claim east of the original claim extending from present day "B & I" store next to 74th and South Tacoma Way in Tacoma, Washington.
In 1880, the Rigney family moved to the nearby town of Steilacoom where John purchased the Albert Balch home on Rainier Street and all the land in block 42. The Rigneys became prominent members of the community. They were staunch supporters of the Immaculate Conception Catholic Church, to which they gave donations when the sanctuary was first built in 1856 at Fort Steilacoom. The church continues to serve Catholics in the area. The original church at Fort Steilacoom was moved, in sections, to Steilacoom proper in 1864.
Descendants of John and Elizabeth Rigney have played an important part in the history of Steilacoom. A street bears their name and the fifth generation still maintains the family presence in Steilacoom.
Henry Martyn Robert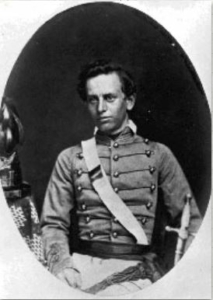 2nd Lt. Henry M. Robert graduated from the USMA in 1857 and immediately posted to the Engineers. He had been born in South Carolina in 1837, but later moved with his family to Ohio as a teenager.
While commanding a detachment of Engineers on road-building projects along the Columbia River, Robert was given the order to embark for San Juan Island late in 1859. Upon arriving on the island in the midst of the Pig War crisis, Robert was given orders by Lt. Col. Silas Casey to design and construct an earthen artillery mount, or "redoubt", for the installation of large guns near the American Camp.
Work began on the project, Robert's first large project in his new career. The crisis was diffused and Robert's engineers were ordered off the island for duties elsewhere. Lt. Robert stayed for a time with some of his engineers at Ft. Steilacoom during 1859–60 awaiting further orders. While on post, his men became acquainted with and entertained by the infantry companies on post. Much of this time is documented by one of Robert's privates, a William Peck.
When the Civil War erupted back East, Roberts was assigned the duty of preparing Federal defenses around Washington City. The Lt. had contracted malaria while en route to the Pacific Northwest in the 1850s; thus, he sought duty away from the warm Southern climate that might aggravate it more. Instead, Lt. Robert prepared defenses around New Bedford, MA now in the company of a new bride and a rapidly growing family.
The young lieutenant returned to the USMA as an instructor for the remainder of the war, but returned to the Pacific Coast in 1867 as Chief Engineer of the Department of the Pacific. While in San Francisco, Robert developed a written guide for managing meetings at his church, a guide based on what he had learned about the most efficient means of employing parliamentary procedure.
Later, while posted in Wisconsin during the 1870s, Robert expanded on his earlier pamphlet and published it in book form, a book titled Robert's Rules of Order. The book was a remarkable success and its demand exceeded Robert's own expectations. In the 1880s, Col. Robert was appointed by President Cleveland to design and develop the new Port of Galveston in Texas. His innovative use of river hydrology to clear sandbar obstructions was both daring and efficient.
In 1901, Robert retired from the Army as a Brigadier General, but continued as a consulting engineer and author in New York. That same year, he returned to Galveston to reconstruct the harbor after the disastrous hurricane of 1900. General Robert designed the sea wall that protected the city from two major storms and one that still stands today as a testament to his engineering prowess.
Furthermore, it is also the continued success of his book, Robert's Rules of Order, that highlights his far-reaching influence today.
Robert Nicholson Scott
Lt. Robert N. Scott was the husband of Lt. Col. Casey's second daughter, Miss Bessie Casey, a relationship that blossomed during Lt. Scott's service at Ft. Steilacoom beginning in August 1860. Serving as a second lieutenant in Company C/4th Infantry under Capt. Lewis Hunt, Lt. Scott would later serve as the Adjutant of the 4th Infantry as the regiment arrived in New York in November 1861 for Civil War service.
Upon arrival in NYC, Scott was notified of his promotion to Captain of Company I, 7th Infantry dated back to Sept. 25, 1861. During McClellan's Peninsula Campaign in 1862, Scott served as Acting Adjutant-General under Lt. Col. Robert Buchanan of the 1st Brigade in Sykes's Regular Division (3d, 4th, 1st Batt'n/12th, and 9 companies of the 14th Infantry regiments).
After the war, Captain Scott was promoted to Major in the 3rd Artillery Regiment, seeing service with his new family, including a daughter, Martha, at the Presidio in San Francisco. He served for a time as Assistant Adjutant-General for the Military Division of the Pacific under the command of Maj.-Gen. Henry Halleck. On December 14, 1877, Major/Bvt. Lt. Col. Scott took charge of the team compiling the Official Records of the War of the Rebellion for both Union and Confederate armies. He died on March 5, 1887 and was promoted posthumously to Lt. Colonel after nearly completing this monumental task. Upon publishing of these records, Scott's name appeared as the lead editor of the work despite his passing before its completion.
William & Mary Slaughter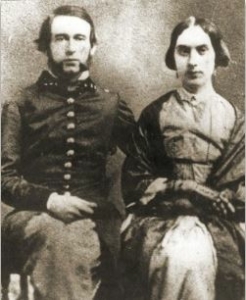 First Lt. William Slaughter served with Company C, 4th Infantry beginning in 1851 and assumed fairly active command of the company in the absence of Captain Prince and Lt. Floyd-Jones until 1855 when he took over the company entirely. He was born in Kentucky in 1826 and admitted to the USMA in 1844. Slaughter graduated from the Academy in 1848 and was later posted to Fort Gratiot, Michigan as a First Lieutenant in the 4th Infantry.
There, Slaughter became acquainted with Lt. H. Ulysses Grant. Grant took extra care to mention Slaughter's seasickness in his memoirs as the 4th Infantry sailed to Panama for deployment to the West Coast that same year.
Prior to Slaughter's deployment, he married Mary Wells of Port Huron. The Slaughters made their home at Ft. Steilacoom beginning in 1853. The young lieutenant purchased real estate in the new town of Steilacoom near the fort and was active in its promotion. He and his wife were popular figures in the new community and liked by all.
Lt. Slaughter led combined volunteer and Regular troops in active campaigning during the Indian insurgency of the Fall of 1855. He was engaged in several sharp firefights that winter. On the evening of December 4, 1855, Lt. Slaughter and two of his men were killed in a nighttime ambush in today's Kent Valley. Slaughter's body was brought back to Ft. Steilacoom.
Mary Slaughter never remarried, returning to her parent's home in Port Huron while being accompanied by Washington Territory Secretary, Charles Mason. Mary died in 1861, shattered by the untimely death of her young husband.